Request Ticket (RT) for Graduate Student Fees
Take a screenshot or picture of your student account that shows the fees and amounts to attach to the ticket.
If you are registering for an additional course, wait to submit the RT. Adjusting your registration will change the amount of fees that you owe.

International students

: there is an international student fee that can take longer to appear on your account. If possible, please wait until this fee is posted to submit your RT for Graduate Student Fees to the department. You may need to submit two RT's to have all of your fees paid and avoid late fees.
Late fees will be assessed by the university if you do not submit the request by the deadline each semester. We cannot pay late fees. If you have a late fee then you will need to contact Student Business Services.
Please reach out to Kerrie Jenkins at KerrieJ1@umbc.edu with any questions.
To access Account Inquiry (students only):
Login to MyUMBC
Select Profile (located on the top bar next to the Search box)
Select Billing (located under Finances on the left side of the screen)
Select Account Inquiry (located under Billing)
Select Activity
Under "View by" you can change the dates and/or semester you want to see the transactions for.
Make sure to click on "View All"
Account Inquiry shows balance information, payments received, financial aid that has been posted, and much more.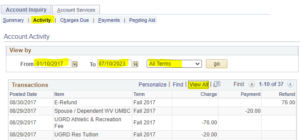 To submit the Graduate Student Fees RT ticket, please click on the link below:
https://rtforms.umbc.edu/rt_authenticated/psyc/GSFeeScholarship.php