HSP Behavioral Medicine Program 
Behavioral Medicine, often colloquially referred to as B-med, is an interdisciplinary field that integrates biomedical, psychosocial, and behavioral factors to understand the mechanisms behind health and illness. It focuses on problems involving relations between behavioral and biological levels of human functioning: problems more typically seen in medical settings and problems related to physical health. This amalgam of different disciplines allows for the application of this knowledge towards techniques that optimize disease diagnosis, prevention, treatment, and rehabilitation. Behavioral medicine takes a cross-cultural and lifespan approach to understanding the different aspects of health, which involves working with diverse identities across the world to best derive a holistic yet personalized route towards positive global health outcomes. To achieve this goal, the field of Behavioral Medicine is comprised of a variety of professions and viewpoints: professors, researchers, educators, healthcare professionals, and more.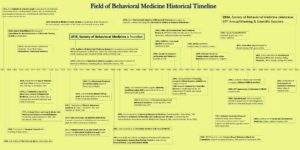 Image courtesy of Society of Behavioral Medicine 
What Can You Do With B-Med? 
Depending on the training, a whole host of professional opportunities are at your fingertips! The HSP Behavioral Medicine program at UMBC provides outstanding and interdisciplinary training to prime graduate students for a successful career in whatever they choose. This program presents a strong pathway for those interested in academia by fostering high quality research, college-level teaching, and collaboration among different fields. This program is particularly geared towards more research-oriented projects alongside diverse teams, with the opportunity for a wealth of publications and presentations. Many of our students present in a variety of national and international conferences, as well as go on to have prolific research careers. Those that decide to study in this track alongside the Clinical Track, are poised to succeed in the many specialty areas that often dovetail with Behavioral Medicine: Neuropsychology, Health Psychology, and Rehabilitation Psychology to name a few. For those curious of more pathways within Behavioral Medicine, please check the many resources within the Society of Behavioral Medicine and the International Society of Behavioral Medicine.  
Program Details 
The Behavioral Medicine Program is a track of the HSP program and can be pursued as a solo program or in conjunction with another HSP track (Clinical or Community). Faculty in the program work to assist graduate students in developing knowledge and skills related to the biopsychosocial model and the intersection of different health fields. Students in the Behavioral Medicine Program complete core courses in behavioral medicine and are encouraged to take internships in this field. Below is a sample schedule of a Behavioral Medicine student: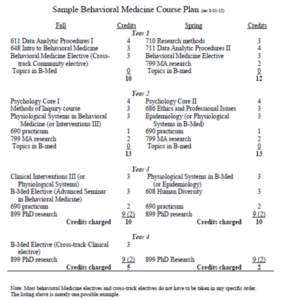 Note: Students who are simultaneously enrolled in the Clinical and Behavioral Medicine programs are required to complete coursework within the Clinical track, as well as a Clinical Psychology Internship. Students in the combined Clinical and Behavioral Medicine programs have a very strong track record of being placed to competitive Clinical Internships accredited by the American Psychological Association.  
HSP Behavioral Medicine Faculty 
Our Behavioral Medicine faculty consists of both researchers and scientist-practitioners that have an insurmountable level of expertise in the field. These faculty members have varied research interests but all center on the ways in which behavioral and psychological factors intersect with health and illness. This is approached not only within a biopsychosocial model, but one that is culturally-informed and keeps the numerous impacts on marginalized identities at the forefront of conceptualization, not as an afterthought. To learn more about specific faculty members and their interests at a clinical or research level, please click on their names below: